Upper Echelon 👑
Adapt Tech is truly best in the biz hands down they dont miss. I had to get a backup for 7/10 just in case cause I can't sesh without mine!!! If you don't have one yet then you shouldn't even be dabbing cause your just letting precious terps go to waste. Amethyst is like royalty to my third👁️🙏💎💜
Bi color go crazy
Honestly didn't know what to think when I got the bi color one since I have 3 other adapt techs I figured it be a lil different but the magic amethyst one goes crazy 🔥
Top-notch!
Got lucky on 4/20 and got the Amethyst for a steal! Packaging was neat and tidy, no need to worry about shipping! These are a game changer, don't think about it any longer, just get one and you'll be hooked!
A must have!
I lost my first sapphire insert from AT in a house fire and had to grab another one as soon as possible. They completely change the experience of taking a dab. I'm definitely going to be grabbing another one or 2 in the future just to have as backups or for friends who're smoking w/me.
Adapt tech insert
Loving the insert life- taking smaller dabs and getting more clouds 🤙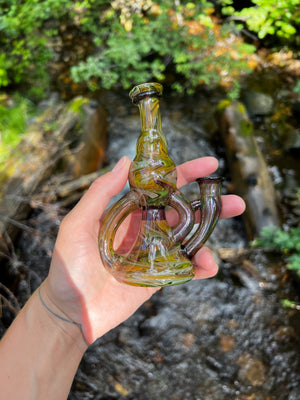 SonNumberFour Glass
Form and function - original designs available straight from the craftsman shipped from the mountains of Montana.
Est. 2017
Our Sapphire products are made from the highest quality materials sourced from professionals with over 20 years experience in sapphire technologies.
Learn more
Quartz Restoration Service
An industry exclusive to our studio we offer restorations of quartz nails - you'll never need a new banger again
Learn more
Precision, Perfection
Expertly crafted faceted inserts offer a unique take on our highly functional gems - many cuts we offer are 1 of 1