Worth The Money!
Everything you've read in the reviews about this thing is true. Heat retention is no match and the flavor profile is unreal. However, it does require extra care as far as cleaning and handling which you rarely have to do but totally worth it.
Best way to dab
I started with the 19m and a 25m banger and absolutely loved it. Switching to a 22m and a 30mm banger ups the ante even more! Heat holds forever with this combo.
Blue sapphire 22mm xl insert
Amazing insert that really lets the true flavor and terps come through. Also extends the life of your dab significantly from great heat retention.
Magic Blue 22mm XL
The heat retention on this thing is amazing and absolutely worth every penny. The magic effect is even cooler in person. Such a unique and functional piece of art. I'm glad I was able to scoop one.
Blue Sapphire 10/10
Aside from color, functions just as good as the Ruby inserts. Both retain heat about the same below 500. Can't wait to get another!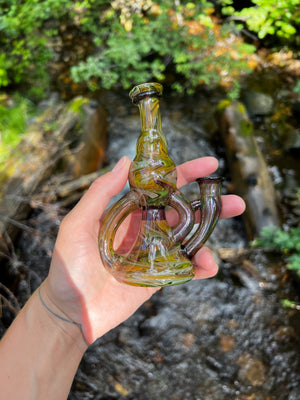 SonNumberFour Glass
Form and function - original designs available straight from the craftsman shipped from the mountains of Montana.
Est. 2017
Our Sapphire products are made from the highest quality materials sourced from professionals with over 20 years experience in sapphire technologies.
Learn more
Quartz Restoration Service
An industry exclusive to our studio we offer restorations of quartz nails - you'll never need a new banger again
Learn more
Precision, Perfection
Expertly crafted faceted inserts offer a unique take on our highly functional gems - many cuts we offer are 1 of 1