Semi-sphere
Just complete excellence!!! The quality is outstanding and functions just as well. I was at first hesitant sure, so I purchased the semi-sphere to kind of test the waters per say and was blown away. Saving up now for my new insert. Get ya one!!! It will change your entire experience.
Excellent
I love the retention and esthetic it brings. Fits in my inserts, chamer, slurper. It does wonders.
Sm yellow gold gem
Perfect lil add on to quartz bangers or used as valve in slurpers or combo it inside the inserts to add some surface area/heat retention for those globs!
Yellow is Amazing!
Prefer this over the amethyst ruby because it holds even lower temps!
Gem
This beautiful gem really does help with heat retention. As others said if you can't afford an insert this is a good substitute and together fantastic.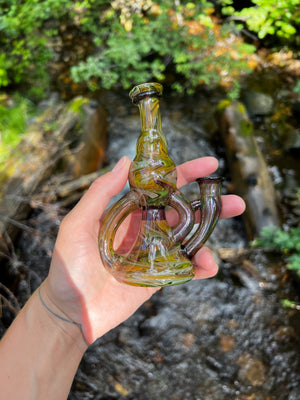 SonNumberFour Glass
Form and function - original designs available straight from the craftsman shipped from the mountains of Montana.
Est. 2017
Our Sapphire products are made from the highest quality materials sourced from professionals with over 20 years experience in sapphire technologies.
Learn more
Quartz Restoration Service
An industry exclusive to our studio we offer restorations of quartz nails - you'll never need a new banger again
Learn more
Precision, Perfection
Expertly crafted faceted inserts offer a unique take on our highly functional gems - many cuts we offer are 1 of 1