Absolutely worth the price!!!
Ok so the first thing I always hear is… but they cost sooooo much! Yeah they do…But so do my high end Quartz bangers that I want to stay as pristine as possible! I can say that after 2000+ dabs using an insert in this Quave as my daily, it literally looks brand new. So good, I scooped a Sapphire one as well! Both the Ruby and the Sapphire are amazing. I absolutely recommend Dark Crystal cleaner. It works. Period. Much love and go get you one!!!
Best inserts in the game
Love these inserts so much I have 3! These things last forever and have changed my dabbing experience completely. Super low temp dabs are possible only with these inserts and I won't dab without one. Very highly recommended, if you are on the fence just buy it you will not regret.
Peach Sakura Ruby Gem insert
Honestly my favorite vaping accessory, I thought a quartz insert was lovely, until I found these ruby/sapphire inserts. Now I will never vape any other way....period!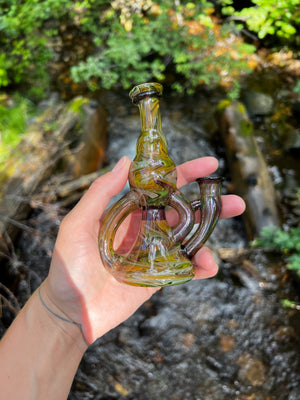 SonNumberFour Glass
Form and function - original designs available straight from the craftsman shipped from the mountains of Montana.
Est. 2017
Our Sapphire products are made from the highest quality materials sourced from professionals with over 20 years experience in sapphire technologies.
Learn more
Quartz Restoration Service
An industry exclusive to our studio we offer restorations of quartz nails - you'll never need a new banger again
Learn more
Precision, Perfection
Expertly crafted faceted inserts offer a unique take on our highly functional gems - many cuts we offer are 1 of 1