Works with the 3d chamber!
It totally fits in 3d chamber, just takes an extra heat cycle to get it above 400°.
I am still using a terpometer until I get the time for the desired temp dialed in, since the app readout isn't accurate for the insert, but it totally works and is a steal for the price in my opinion.
Unfortunately
It's a great insert unfortunately it does not work on the new puffco peak with new 3D atomizer . The coils are around the sidewalls and it doesn't get hot enough to vapor the oil.
Awesome
It takes some extra heating to get the insert to temp, but as long as you don't mind the occasional spill behind the insert and the fact that it will drain your battery quicker, the flavor is very nice. I much prefer dabbing off of the sapphire surface vs the 3D chamber. It feels a lot better on my throat overall. Just don't pull too hard or pack too much and it wont spill out of the insert. Once dialed in it's a great addition to the peak. Been doing roughly 520 F for 2 mins for settings and I hot load the dab at around 1 minute or less using the oculus or bubble cap.
Perfect
Works great with the puffco, giving way better flavor. Can also use it as a drop in insert.
Been using their products for years
Terps are better out of this but the 3D adamizer hits similarly.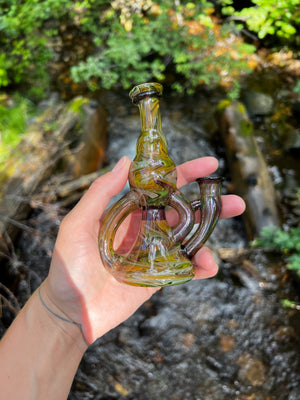 SonNumberFour Glass
Form and function - original designs available straight from the craftsman shipped from the mountains of Montana.
Est. 2017
Our Sapphire products are made from the highest quality materials sourced from professionals with over 20 years experience in sapphire technologies.
Learn more
Quartz Restoration Service
An industry exclusive to our studio we offer restorations of quartz nails - you'll never need a new banger again
Learn more
Precision, Perfection
Expertly crafted faceted inserts offer a unique take on our highly functional gems - many cuts we offer are 1 of 1